Lord Byng Secondary School
Class of 1979

In Memory
Lorne Yerxa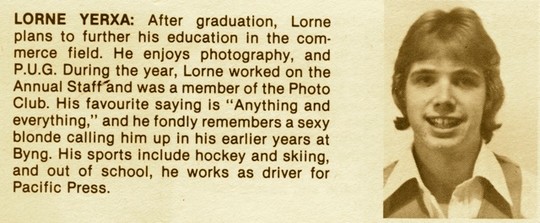 YERXA Lorne Charles Died of aggressive cancer, on December 24, 2008 in
Vancouver, BC, at the age of 47. Lorne is survived by his parents,
Donald and Helen, his brothers Winslow (Pat) of San Francisco, CA,
Wayne (Tracey) of Coquitlam, BC, and his sister Mary Peddie (David) of
Surrey, BC. He is also survived by four nieces, two nephews and a
grandniece.